DIY: Home Spray with Scent of Autumn Flowers
The sense of smell is a powerful one, full of the potential for positive energy, which we sadly often neglect at home. This year, bring the recognisable scents of crisp, clear autumn into your home with this easy-to-make craft project. You'll be delighted every time you open the front door.
YOU WILL NEED
Flowers — we opted for roses and sage
Your choice of essential oil
Distilled water
Vodka
A spray bottle
---

HOW TO MAKE IT
Step 1
Fill half the spray bottle with distilled water, then top it up with vodka until it's full. The vodka is required because water and oil find it hard to combine. They mix together much better if you add alcohol. You can use tap water instead of distilled, but your spray won't keep as well. If you'd prefer an alcohol-free version, then skip the vodka and top up the difference with more water — just remember to shake well before spraying.
Step 2
Add 15 to 30 drops of essential oil. Choose a single fragrance such as rose, or combine a mixture of rose and lavender, for example. You can keep playing with this until you've found your signature autumn fragrance.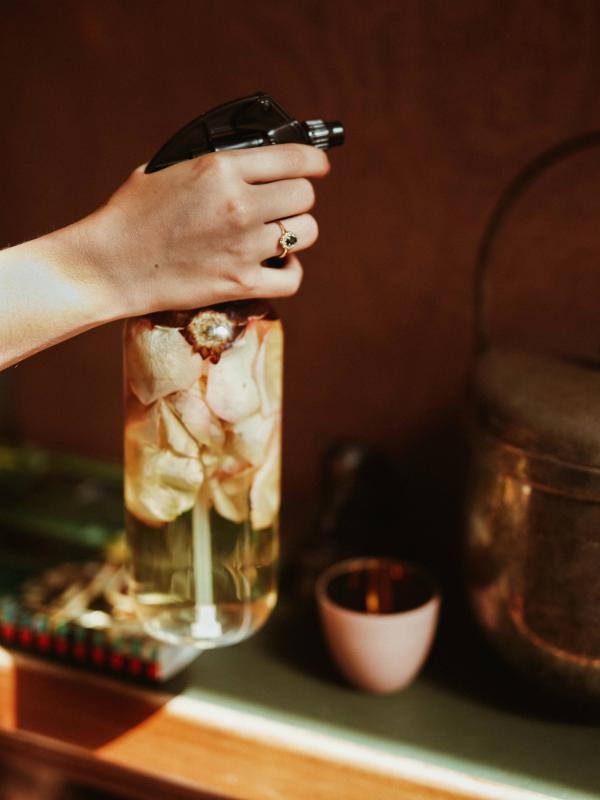 Step 3
Add seasonal flowers and herbs to the spray bottle. They don't just smell great, they also look beautiful suspended in liquid. Rose petals and sage are particularly gorgeous.
Then get spraying! Your hallway, living room and home office or studio space will be transformed by this lovely scent. If you want a continuous release of fragrance, decant some of the spray into a short glass container and add an assortment of wooden sticks, one end dipped in the liquid and the other end emerging from the top of the bottle or jar.
>> funnyhowflowersdothat.co.uk